Food & Candy
Promotional food items create a truly satisfying message!

Popular Brands in Food & Candy
Employee Tip on Custom Food & Candy Gifts
Promotional Food & Candy gifts send a sweet message with popular snack candy brands including, Jelly Belly, Chewy Spree, and Swedish Fish. Chocolate lovers will shop more than 200 gifts of chocolate - packaged for one person, a few, or group size to share. Personalized chewing gum and wrapped butter mints are a wedding & tradeshow staple. In a time crunch? Snack foods and custom label bottled water, are quickly set up for meetings or social group get-togethers. Favorite crunchy snacks include pretzels, nuts, and popcorn in custom: collectable tins, bags, and more. Enjoy bags of microwave popcorn; they're ready to pop with promotional possibilities!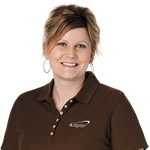 Carrie
with 4imprint
17 years
To Top
of page