Writing
Spread your message

with imprinted writing tools!

Popular Brands in Writing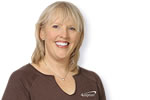 Order logo pens, custom highlighters, imprinted pencils, and personalized writing sets worry-free from 4imprint! Be 100% confident with your promotional pen or highlighter order by comparing free samples side by side before you buy.

All orders — large and small — are covered by our 360° Guarantee®: you get the lowest prices, on-time shipments, and the satisfaction of knowing that we're here to serve you from first call to final shipment and beyond. Experience what it's like to be our most valuable customer — request a free sample today!
Employee tip from Kari, with 4imprint 7 years.